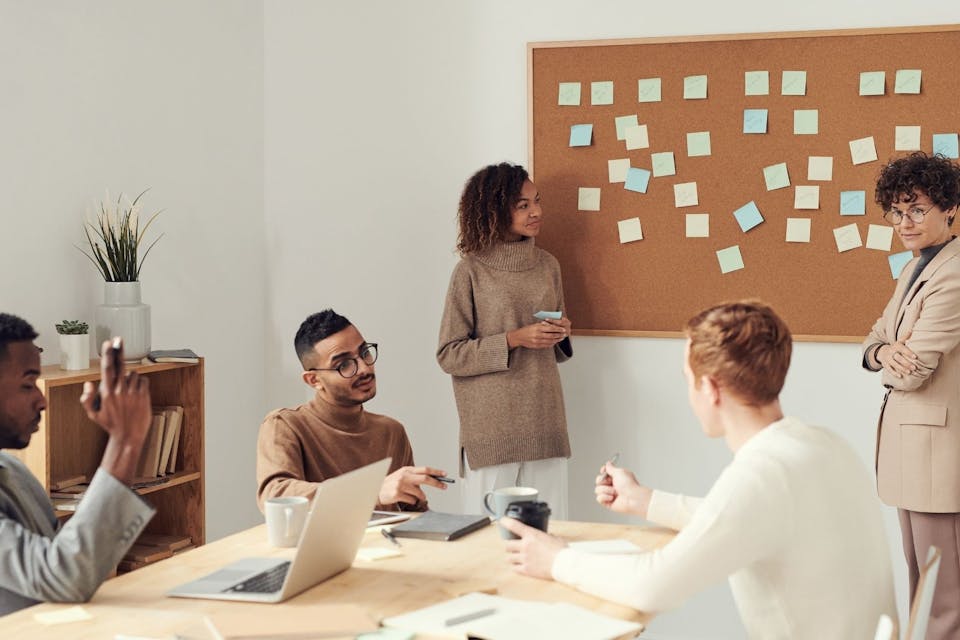 Responding to change rather than following a rigid plan is one of the points of the Agile Manifesto. It states there is more value in developing software by responding to changes than by blindly following a predetermined plan.
Nevertheless, the planning process is a crucial element as it allows us to determine what is feasible and what is most valuable to the business in the upcoming weeks.
What is PI Planning?
PI Planning (PI Planning – Scaled Agile Framework) is an event attended by all ART (Agile Release Train) members. ​​It's a key moment allowing everybody to get to know and understand the strategy, vision, plans, and needs. It allows us to jointly plan all the upcoming iterations to deliver the most optimal solution for the customer. This time must be used effectively.
For agile PI Planning to be effective, we need to prepare for it properly. Let's group the positive and negative aspects, depending on whether we spend less or more time preparing for the PI Planning session.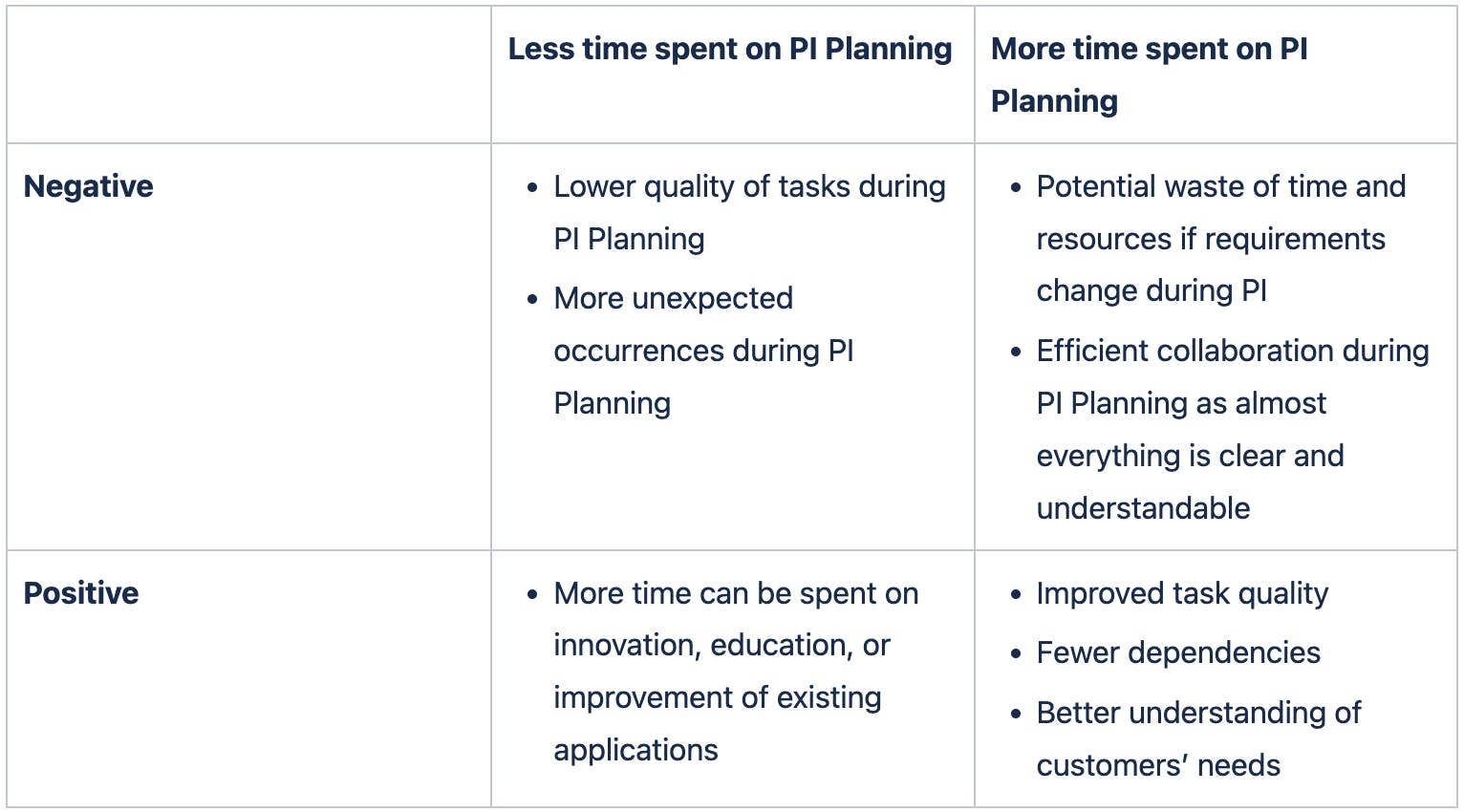 Now that we know the consequences of both too little and too much planning preparation, let's discuss the 7 sins of PI Planning.
7 Sins of Agile PI Planning
1. Product management does not provide a vision or roadmap
PI Planning consists of three inputs:
Top 10 features
Vision
Roadmap
Additionally, the vision allows the entire ART to focus on one direction. That is why it is so important not to skip this element in preparation for PI Planning.
2. Planning tasks for the IP Sprint
The last sprint of each PI is called an IP Sprint (Innovation and Planning Iteration – Scaled Agile Framework) (Improvement & Planning Sprint). During this sprint, teams have time for making improvements, learning, refining quality, preparing for planning, and the planning itself.
A common planning mistake is that teams plan tasks for the IP Sprint instead of leaving them empty, i.e., Load = 0. It is important to give teams time and opportunity to gain knowledge, innovate, and prepare for the PI Planning. This approach increases quality, commitment, motivation, and reduces errors.
3. Features considered as Objectives
It very often happens that teams treat the features (Features and Capabilities – Scaled Agile Framework) they receive from Product Management as their PI Objectives (PI Objectives – Scaled Agile Framework). It creates confusion and challenges in understanding what business value each team fulfills when several teams are required to deliver a feature.
Therefore, the SAFeⓇ PI Planning framework recommends collaboratively working out the team's PI Objectives containing clearly defined value with the Product Owner. Below you'll find an example of a feature and PI Objectives which are a part of that feature. The team does not have to deliver the entire feature itself but only its components that add up to the overall feature.
Feature:
Autonomous delivery from point A to point B
PI Objectives:
Calculation of available vehicle payload level
TOP 10 most frequent routes
Calculation of the possible distance to battery level
Automatic return to base after delivery
4. Load in sprints equals the capacity
If we don't leave ourselves a buffer for unexpected situations during a sprint, we will naively believe that everything will work out the first time. Since every team is different, it is best to empirically assess what capacity value works best without causing too many tasks to be carried over to the next sprint. However, in the beginning, you can assume that Load should be a maximum of 70-80% of available capacity.
5. Business value — 10 for all
The purpose of defining the Business Value is to show the team which Objectives are crucial so they can properly prioritize their activities. We can't allow the Objectives to be equally important. A good tip for the Business Owner(s) is to first think about what PI Objective will bring them the most value and identify that as 10a and then identify the other PI Objectives.
6. Averaging the Confidence Vote
A Confidence Vote is used to assess the team's belief in the final plan. It is important to get to know the rating of each team member. For example, if votes look like this: 5,4,3,2,2,2, it means that three people do not believe in the plan and it is necessary to approach the planning again.
The average result for such a voting session gives us Confidence Vote = 3, thus we might mistakenly believe that the planning can be completed and there's no need for rework.
7. Omitting Planning Retrospective
PI Planning is an intense process and often makes ART members feel like unwinding and going to the hideaway after the final plan has been agreed upon. It creates a temptation to give up on the Retrospective.
This approach makes us fail to improve the quality of our planning and deepens notorious bad habits. The Retrospective is crucial to plan smoothly and optimally.
Conclusion
To err is human, but to persist in the mistake is diabolical.
Lucius Annaeus Seneca
The SAFeⓇ PI Planning framework gives us a rich set of practices and tools making it easier for us to err or use something in a different way than the author intended.
It is impossible to avoid mistakes, but it is important to identify and eliminate them in future iterations. Retrospective can definitely help us, both at the team level and at the level of the whole ART.