Due to the pandemic, there has been a massive shift to work from home. According to Gartner, 88% of organizations have encouraged or required their employees to work from home. While companies moved to remote work, they had to continue carrying out their regular activities, like project planning, retrospectives, brainstorming sessions, etc. In order to do so, they needed a convenient way to collaborate online and stay aligned across every sprint planning meeting or simply brainstorm the next big idea.
In September 2020, our team launched Whiteboards for Jira and Whiteboards for Confluence to respond to popular demand and the need for companies, including ours, to carry out their daily routines, and work remotely online. We launched it to facilitate brainstorming, planning, and taking action with the team in real time.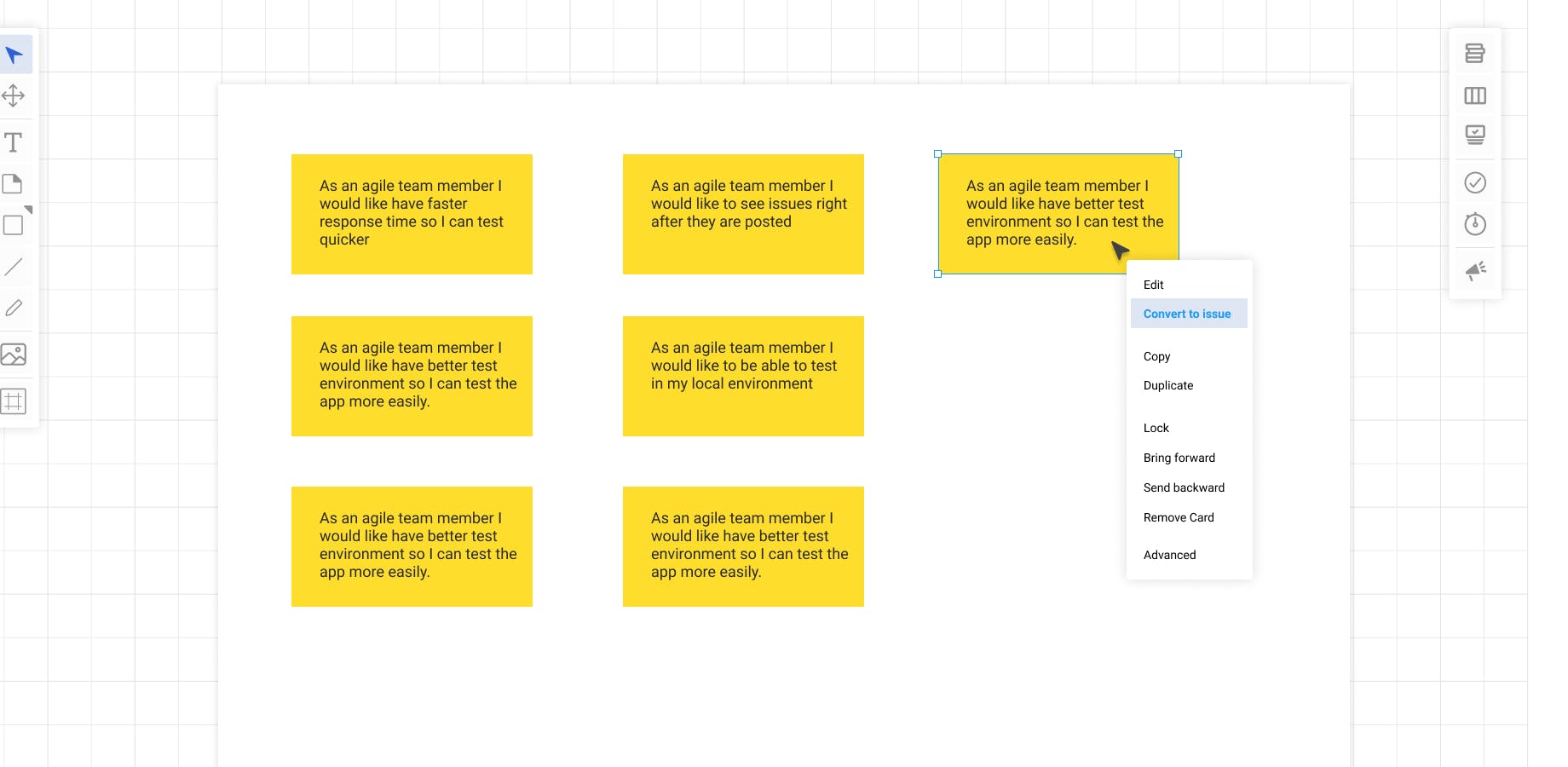 One of our first customers, Mi9 Retail, kindly agreed to share their story and feedback on our blog.
The company is committed to helping retailers on their paths to success, maximize revenue, increase margins, and reduce costs. To sustain the regular pace, the company had to maintain the level of quality planning, execution, and delivery even in the remote setup. One of the apps chosen to achieve this was Whiteboards for Jira.
Read on to find out how Mi9 Retail, the Demand Management division including Product Managers, Product Owners, Scrum Masters, and Project Managers introduced Whiteboards for Jira to overcome several challenges:
Management of boards for multiple Scrum Agile teams during the SAFe PI Planning;
Easy visualization for stakeholders;
Replace the physical board.
About Mi9 Retail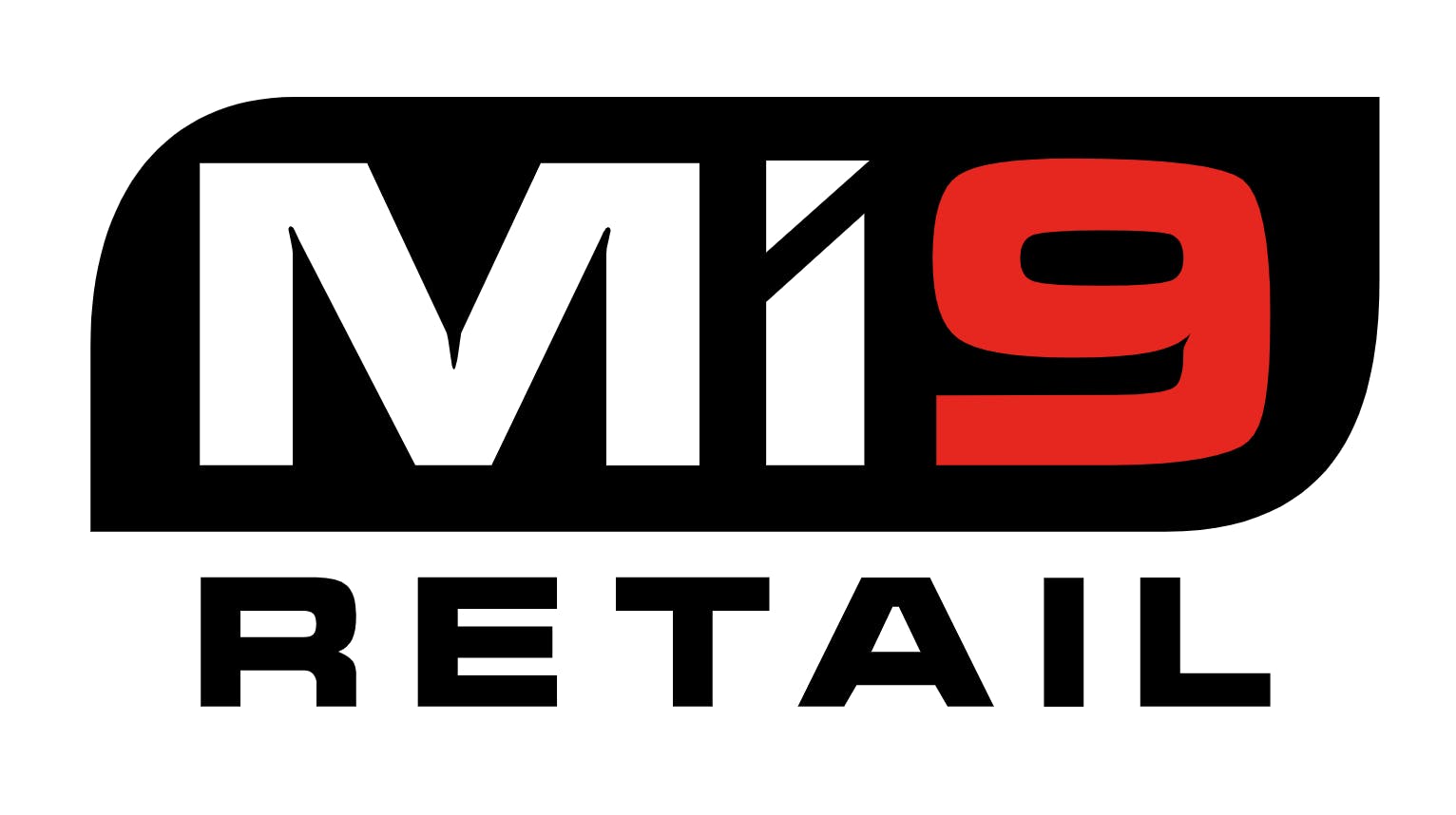 Mi9 Retail enables the world's leading retailers to automate and optimize their entire Plan-to-Sell® process, from planning to managing to selling merchandise in-store, online, and on any device. Their corporate retail systems facilitate better demand forecasting, planning, and merchandise management. Mi9 cloud-based solutions incorporate the latest innovations in AI and machine learning to boost system intelligence, automate manual routines, and deliver exception-based workflows.
Challenge: Manage remote PI Planning event effectively
Despite different roles and the areas they were responsible for as Product Owners, Product Managers, Scrum Master, and Dev Team Lead they all had one common challenge to overcome: make sure they were able to keep the quality of their regular PI planning meetings in the remote set up.
They needed to replace a physical planning board with a virtual one. Since, there were several Scrum teams in the company, very often managed by the same manager, there was a great need to set up an easy way to manage multiple boards for those teams during the SAFe PI Planning exercise.
The alignment between all Scrum teams and easy visualization of their work for stakeholders was also crucial for their new work setup.
Solution: Digital whiteboard offering deep integration with Jira
Scrum Teams at Mi9 Retail adopted Whiteboards for Jira for their team's distributed PI Planning event. As they use Jira to manage their projects, and since Whiteboards integrate with Jira natively, the choice was obvious.
"Jira integration is key. We used a competing product before, but it was not ideal. Having the tight integration with JIRA reduces rework of tickets" Wikus van Dyk, Development Team Manager at Mi9 Retail.
Whiteboards for Jira are integrated virtual boards for creative real-time collaboration that lets distributed teams run their online activities, and thanks to powerful integrations, bulk editing, and automation, they could easily bridge the free-style content of the whiteboard with the world of Jira issues.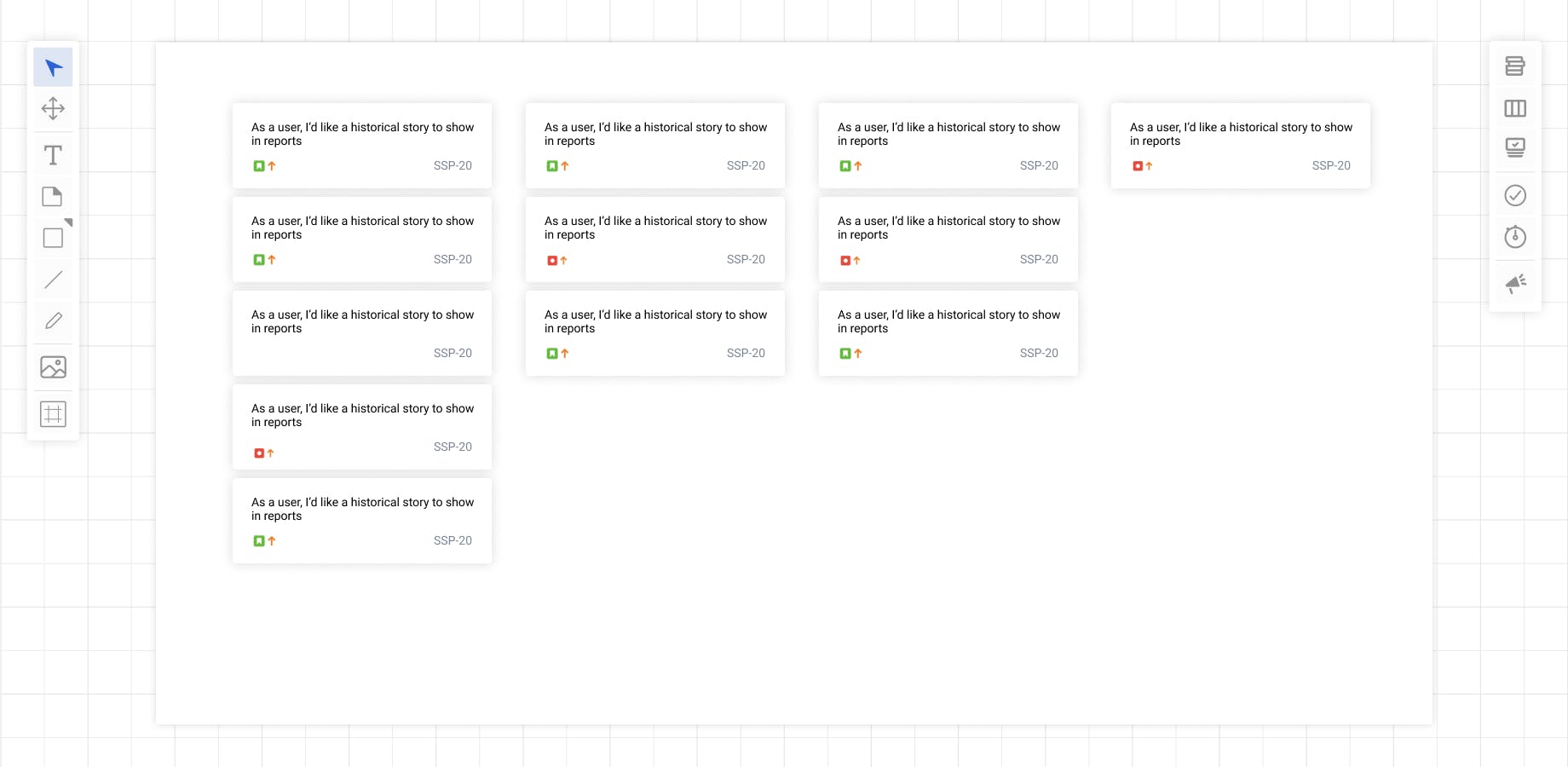 The full Jira integration allowed teams at Mi9 to:
easily populate the whiteboard with their existing Jira issues or create new ones;
edit, update, rank, or transition Jira issues — individually, in bulk, or via update zones directly on the board;
turn ideas into actionable items by converting sticky notes created during the online PI Planning ceremony into issues in their Jira with just one click;
attach a digital board to Jira issues to add visual context to the items;
control the access of other teams to their boards using Jira permissions.
"I'm a Product Owner working directly with a Dev/QA team within a specific portion of our product. I lay out the whiteboard in a format that will be most efficient for the team to use during the PI Planning session. I facilitate the discussion around needs related to the JIRA tickets, but it is a very collaborative effort and all team members have an equal voice and have equal rights in modifying the whiteboard." Jim Albert, Product Owner at Mi9 Retail.
Remote work, smart collaboration
As a result of using Whiteboards for Jira during the remote PI Planning session, the Mi9 team observed several benefits, time-saving being one of them. Having the tight integration with Jira reduces the rework of tickets — they didn't need to be recreated on the board in an external format, only to be created again in Jira. Moreover, whatever updates they needed to make to their Jira issue, they could make it right on the board through the update zones without the need to update them again in the Jira project.
The problem of work duplication solved!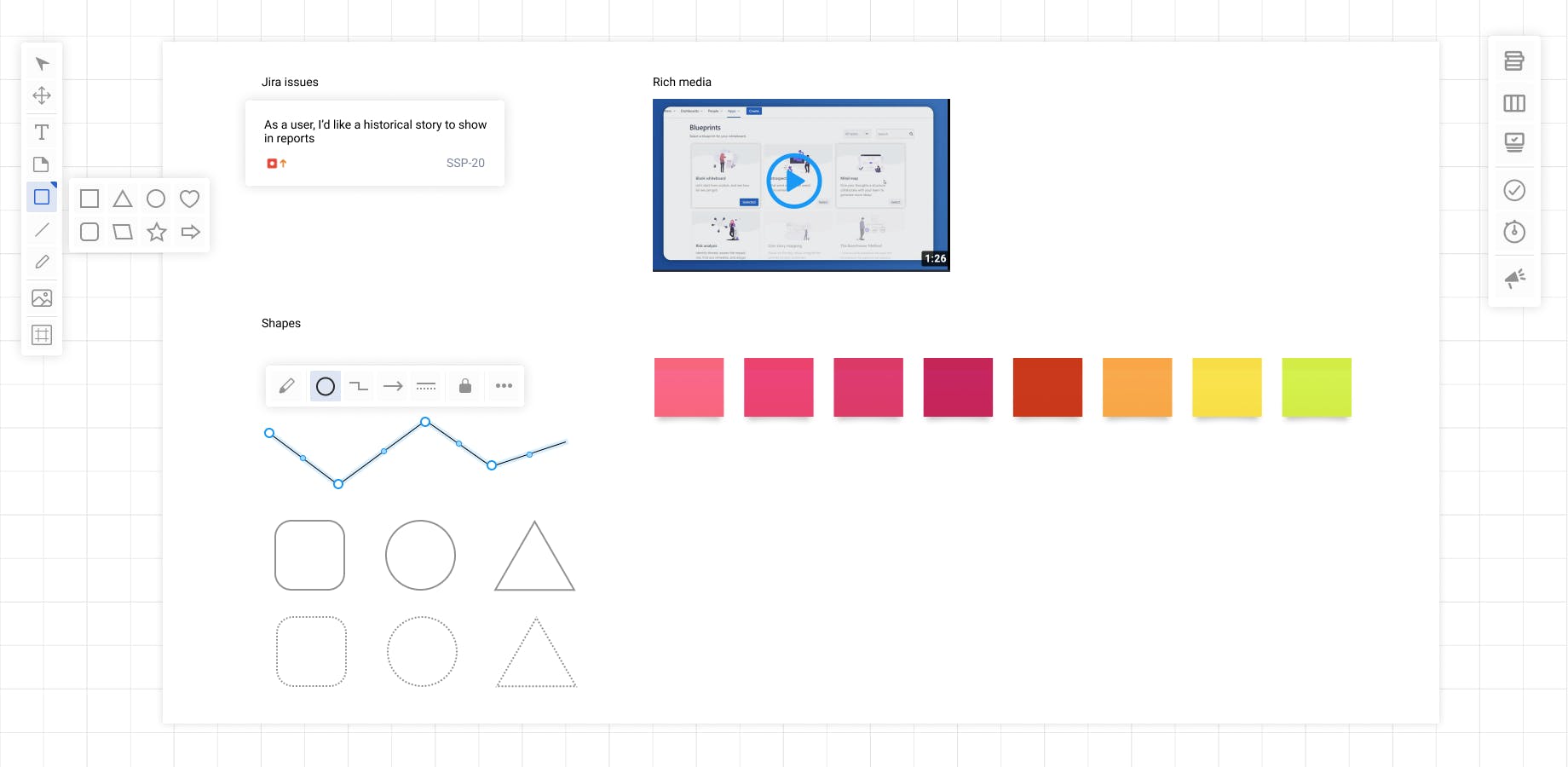 It doesn't end here. The possibility to zoom in and out, adding various shapes and items like pictures, shapes, diagrams, flexibility in layouts, and visibility of active users cursor or built-in search makes the whole planning and online collaboration process smooth and effective. As an outcome, the virtual whiteboards added visual context to support the communication with stakeholders.
"This fantastic tool was what our remote teams have always been looking for — being able to work natively within JIRA to whiteboard our JIRA issues quickly, powerfully, simply has made a huge difference in how we look at our sprints, think about our upcoming work, and collaborate virtually in real-time…essential in COVID times! Thanks to Spartez for a great tool and great customer service at a time when we badly need both! "John Wagner, Scrum Master at Mi9 Retail.
What's your story?
We'd love to hear your story. It could help other users introduce successful practices to support their remote teamwork and cross-team collaboration to be more effective and productive.
If you would like to tell us how you use Whiteboards for Jira and Whiteboards for Confluence drop us a line at support@whiteboards.io. We'd love to hear more about how Agile Release Train Engineers conduct their distributed PI Planning events, which collaboration tools they like to use to deliver high-quality business value, or simply how Agile teams are working remotely.
References
https://www.businessinsider.com/companies-asking-employees-to-work-from-home-due-to-coronavirus-2020?IR=T
https://www.riverbed.com/blogs/15-surprising-stats-on-remote-work-due-to-covid-19.html
https://globalworkplaceanalytics.com/work-at-home-after-covid-19-our-forecast