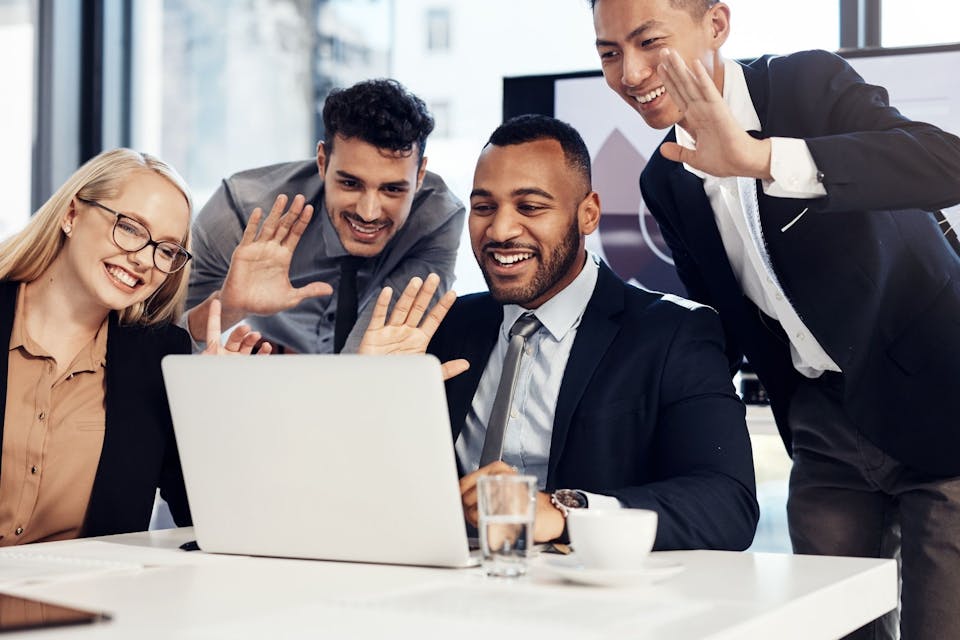 Hello World!
Here it is!
We are extremely excited to announce the grand opening of our blog entirely dedicated to our rapidly growing app — Whiteboards.
For the past few months, we have been working tirelessly on releasing our new web pages devoted to our whiteboarding solution. You will discover here inspiring case studies, read more about available features and how you can benefit from them, and also check the pricing page if you choose to go for the app's paid and more advanced version. The fruits of our work are linked here.
We believe the content presented on this blog will help you understand our values and learn more about our goals. We want you to meet the people behind the product who work on it and strive to improve it every single day.
Meet our values
The values shape everything we do as a team. We want to ensure we are aligned with our goals and ideas and that everyone has a chance to speak up their mind. There are no wrong or bad solutions. We work together to see our approaches, share reflections, opinions, and views, and understand the thought process and reasoning. Then, we collaboratively decide on what our next steps should be.
Make it, and make it matter
We focus all of our attention on the voice of our customers to make sure they will feel listened to and that our product makes a positive difference in their everyday job. We regularly talk to them, collect their valuable feedback, and provide changes to Whiteboards whenever necessary.
Light the way
Each of our team members is working continuously on improving the product we create together. We value generosity and build great relationships based on trust and mentorship. Helping our fellow humans is a natural thing for us.
Getting it right > being right
We don't want to be always right. Instead, we prefer to get things done correctly to help our customers solve their problems and ease their workflows. We never stop questioning, we are constantly testing new solutions, and we stay curious. That's what helps us stay on top of the game.
Build the flame
Passionate people do incredible things. At Whiteboards, we're a bunch of folks driven by a shared passion to help our customers solve their problems with a simple and collaborative tool.
Get to know our goals
Just like any other company, we also aim high, and only the sky is the limit. We work tirelessly and continuously to provide the most outstanding product on the market for all our customers.
Our goal is to build a vast customer base that combines agile methodology when working on virtual boards. We hope that such environments will find their way to our product and will be pleased with how much their work is facilitated with Whiteboards. It is an ideal tool for teams that regularly conduct sprint planning meetings, retrospectives, or sprint reviews and need integration with such instances as Jira or Confluence.
However, keep in mind that we are not closing ourselves off to other user groups. You don't have to be an expert to use a collaboration tool. If an idea comes to your mind, you can quickly and easily picture it on Whiteboards. The possibilities are endless.
We also strive to improve the application's performance to be handy to anyone using it. We scale it for a superior user experience so that working with Whiteboards will not give anyone a headache.
Why do we keep on developing and growing Whiteboards?

We are a one-of-a-kind solution.
Look around the market and ask yourself if there is a solution that offers Jira and Confluence integration. A difficult thing to do, right?
Look no further. Whiteboards are the perfect application not only to plan out your work on a virtual board but also to make sure no task is left behind. Our application allows you to import Jira issues directly on your board. That way, you can easily host a sprint planning session (or any other agile ceremony), assign story points or time estimates to your tasks, and make sure the work gets done.
We love collaboration!
Two heads are better than one. But how about the entire team?
Thanks to Whiteboards, you can gather the entire squad in one virtual space and brainstorm until you come up with great ideas or spectacular solutions.
Visual representation of work is always a plus!
Sometimes a picture is worth more than a thousand words. Instead of writing lengthy documents, you can express your train of thought with images, graphics, GIFs, or anything else that supports your idea. It also brings a lot of fun, doesn't it?
We see the app's potential.
Initially, Whiteboards were only available for users with Jira or Confluence accounts. However, we didn't want to take away the possibility of trying out our innovative tool by everyone. We decided to become a stand-alone app, available to anyone who feels that a virtual whiteboard will allow them to achieve their goals and boost their productivity.
Where do we store the data?
We care about the security of your data and want you to use our Whiteboards.io application smoothly. For this reason, board data storage takes place in one of the three available locations: North America (Iowa), Europe (Belgium), or Asia (Singapur), according to your organization's location. So, if you are a user from the United Kingdom accessing an organization with data residency in the EU, all your board data will be stored in the EU.
The data we process is all the items you create on your board — from cards, through uploaded documents, up to text boxes, and other elements you create. Our goal is to improve the performance of our product and the significant ease of use for our customers.
Here's our dream team!
Building a team is one thing. But being able to work with enthusiasts is what makes this product strive for its best form. None of this could be possible if not great people on board.
Check some of our team members' comments who work continuously and dedicatedly to improve Whiteboards, so the product meets our customers' needs and also easies our work along the way.
Grzegorz Tańczyk
I'm the author of the Whiteboards.io app I created back in March 2020. I wanted to have a tool that would let me express my thoughts, feelings, and would ease communication with my team. This solution is excellent as it does not impose any limits or structure. As a creator, I enjoy the work because it provides a lot of challenges to our team and me. This project helped me grow as a professional, and I'm excited about the future. I'm eager to make our customers, partners, and users even more successful in their job.
Katarzyna Nowak
We dream big about Whiteboards. And we want to empower our customers to dream big about their work too. Providing a collaborative tool that levels up the work of agile teams and makes online meetings more powerful, fun, and engaging helps you do that.
When shaping the product's vision, we reflect on the future of work, collaboration, and our role in shaping it. One of our values is to "be human", so we focus heavily on our users and the power of visualization. Whiteboards' endless possibilities and use cases, and at the same time numerous ready-to-use templates, focus on the needs of agile product teams.
Agnieszka Józwiak
Working at Whiteboards is very motivating but challenging at the same time as we need to make sure we build a product that will stand out from the many out there and properly hit the needs of people we want to drive to our product. At the end of the day, Whiteboards should respond correctly to the Agile teams the product is intended for. We have a great bunch of talented and experienced people you can learn from and work on the project that can really make teams and individuals more successful in their jobs.
Check who else is a part of our team on our website!
We're just getting started!
So here you have it!
We have presented to you our proudest values and goals that we strive to achieve with our everyday work. We believe you share the excitement with us and cannot wait for what else we've got up our sleeve.
Brace yourself — great pieces of content are coming!