The power of visualization and associations
There are different ways of approaching taking notes or decomposing your ideas to visualize your thinking and make it clear to others. Regardless of how, this process's primary goal is to follow the author's thoughts' chronological or logical sequence and close the summary of its content using clear descriptions, phrases, or keywords.
Alternatively, you can follow the mind mapping idea, a tool that supports the creative and innovative thinking process.
The mind mapping concept is precisely how our brain works- you come up with an idea, and then it gets dissolved into smaller ideas, concepts, thoughts, and descriptions. You start with a central idea and then add different branches to it to explore the idea. It's great for brainstorming, project ideation, planning, and even presentation to put your ideas through visually and logically.
What is Mind Mapping?
Mind Map is a visual diagram that is used to organize information in a structured, hierarchical way. It is created around the central concept with links to associated ideas via images, lines, and keywords. Then other ideas branch out from the major ideas, and as a result, we give our thoughts a solid structure. Those diagrams are always helpful when collaborating live with your team to generate more ideas.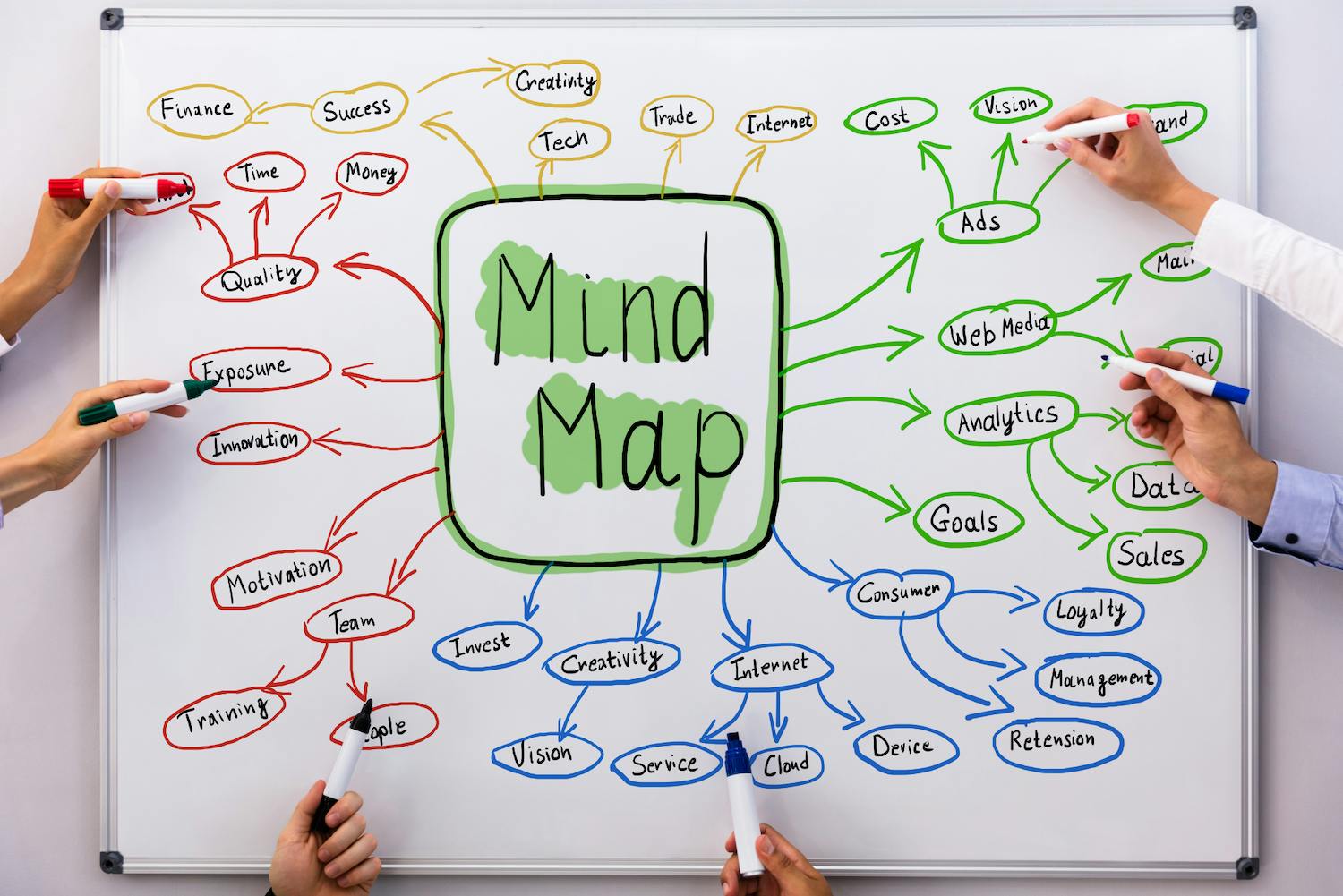 Mind mapping uses the concept of 'radiant thinking,' a process that progresses from or relates to a central point. Mind maps are just expressions of radiant thinking.
This concept has been around for decades and new technologies just enhanced the possibilities to expand our thinking power and manage our work more effectively. And although mind mapping is now easier than ever, the essentials of the concept remain unchanged.
These days, Mind Mapping is all about combining the traditional way of idea generation with the tools we use every day to make creative and innovative idea generation a seamless part of our work and life.
In the latter part of this article, I will describe how you can mind map in Jira and Confluence to make your brainstorming or planning effective and actionable.
Examples of mind maps use
The term 'mind map' was first widely used by British author and tv personality Tony Buzan but its concept traces back ages. He claimed that no brain is programmed to think from left to right or top to bottom. Instead, diagrams support the brain's natural ability to process information in a non-linear way, and mind maps support this ability.
This idea of visual ideation is now used in learning, brainstorming, memory training, visual thinking, and problem-solving in education, software development, psychology, engineering, and other specialties. You can use mind maps to simplify complex ideas, solve problems, run team brainstorming, organize project planning, visual presentations, and more. It's there to help you convey your ideas and make them visual. Let's look at some popular use cases of mind maps.
Run Brainstorming Sessions
To unleash the creative potential needed during the team's brainstorming session, Mind Maps come in handy to help organize the ideas and come up with one and build on it if you are looking to solve a problem or try to come up with a new concept. And since brainstorming sessions may turn chaotic at times, mind mapping will help you control this chaos.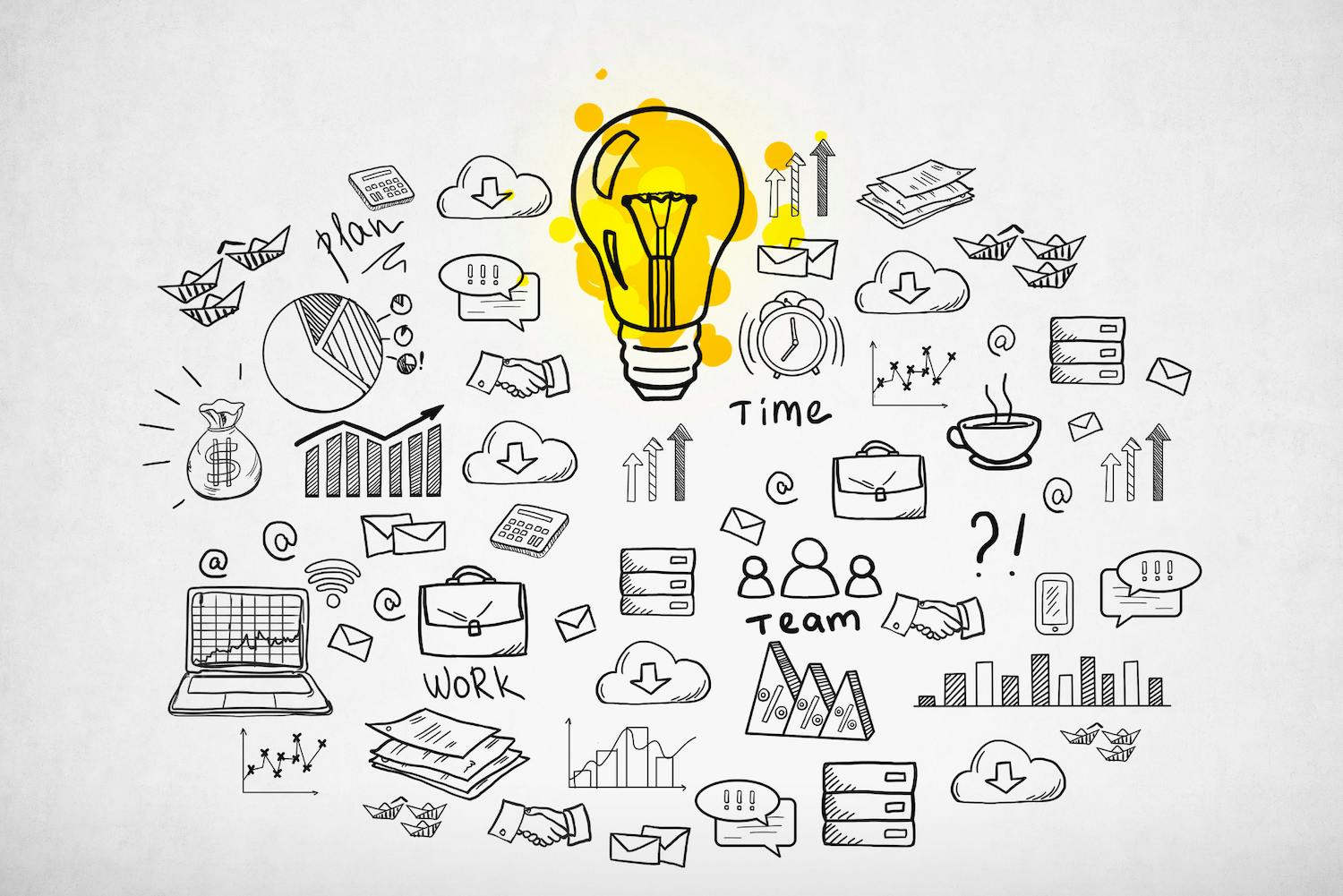 Why mind maps are a good idea for your brainstorming session:
You can adjust the mind map easily and quickly. They can be as dynamic as your brainstorming sessions;
They bring the visual aspect to show relationships between the central idea and related keywords, descriptors, and links;
They help you control the session to ensure all ideas are included and don't drift away from the main topic.


Simplify Complex Ideas
Even the most complex ideas can be explained in a digestible manner if approached wisely. Instead of describing your idea, try to decompose it, however, compound it might be, with a mind map. Not only will you have a chance to understand its complexity, and add any improvements to the idea, but most importantly, you end up with a big picture with all the dots connected that can get easily translated to your team members and stakeholders. The diagram will help you 'describe' all connections within your concept.
Manage Your Projects
As a project manager, you don't want to lose your time, but instead, you prefer to use it to plan and manage your projects proactively. Mind maps will help you use time more productively as they will help you during brainstorming, planning, prioritizing, and make sure your project is well-performing and you deliver it on schedule.
Additionally, what's crucial in project management, mind maps will help you stay away from the chaos that's very often slipping in, impacting project performance, slowing down the decision-making process, and demotivating the whole team.
Collaborate with your project team during the ideation phase or planning session. You will share ideas and map them on a diagram for better information flow and clear visualization. You can then derive a clear action plan with a to-do list and items assigned to your teammates.
How to create a mind map in Jira or Confluence
One of the tools available on the Atlassian Marketplace that enable creating mind maps in Jira and Confluence is Whiteboards. Not only can you create visual diagrams, but most importantly, the tool allows real-time online collaboration with your team, so you can brainstorm, plan, prioritize, develop new ideas, and visualize any task easily on an infinite virtual board.
How to create a mind map in Jira or Confluence that will disassemble your idea and visualize your thinking? Just follow the steps below:
1. Install Whiteboards
No matter if you want to brainstorm in Jira or Confluence, we have apps to cover both needs. Install Whiteboards for Jira or Whiteboards for Confluence from the Atlassian Marketplace to get started with mind mapping.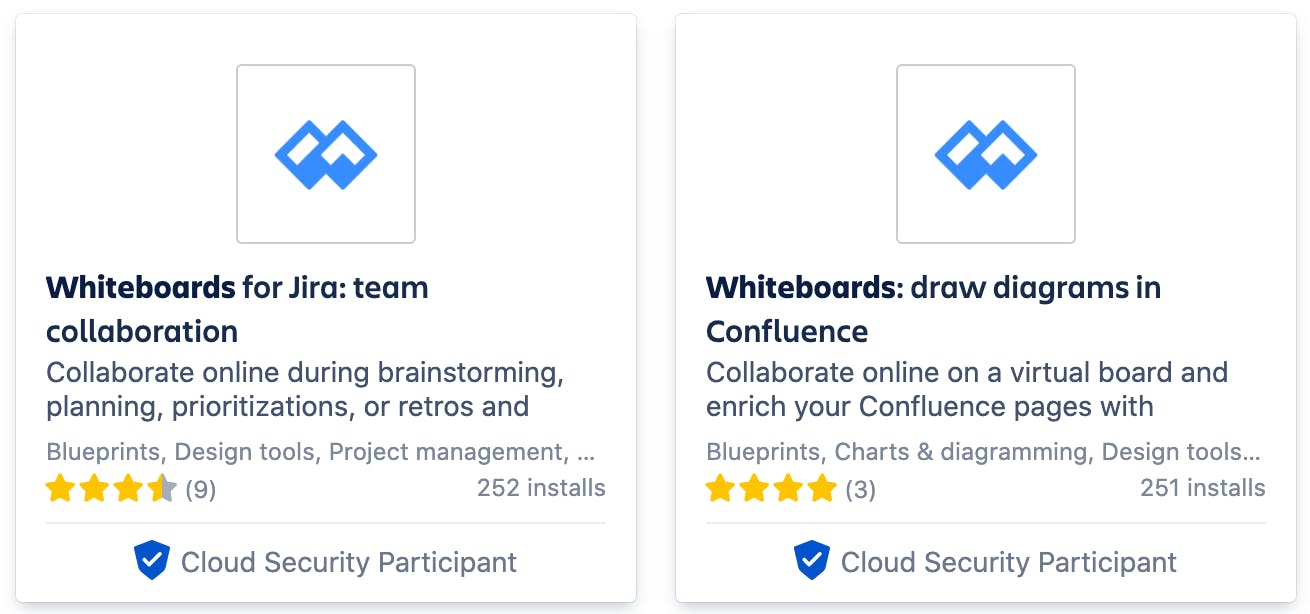 2. Create a central idea
Once installed, create your first board. You can create a blank board to start your mind map from scratch or choose a mind map template to have a sample map populated on your board automatically.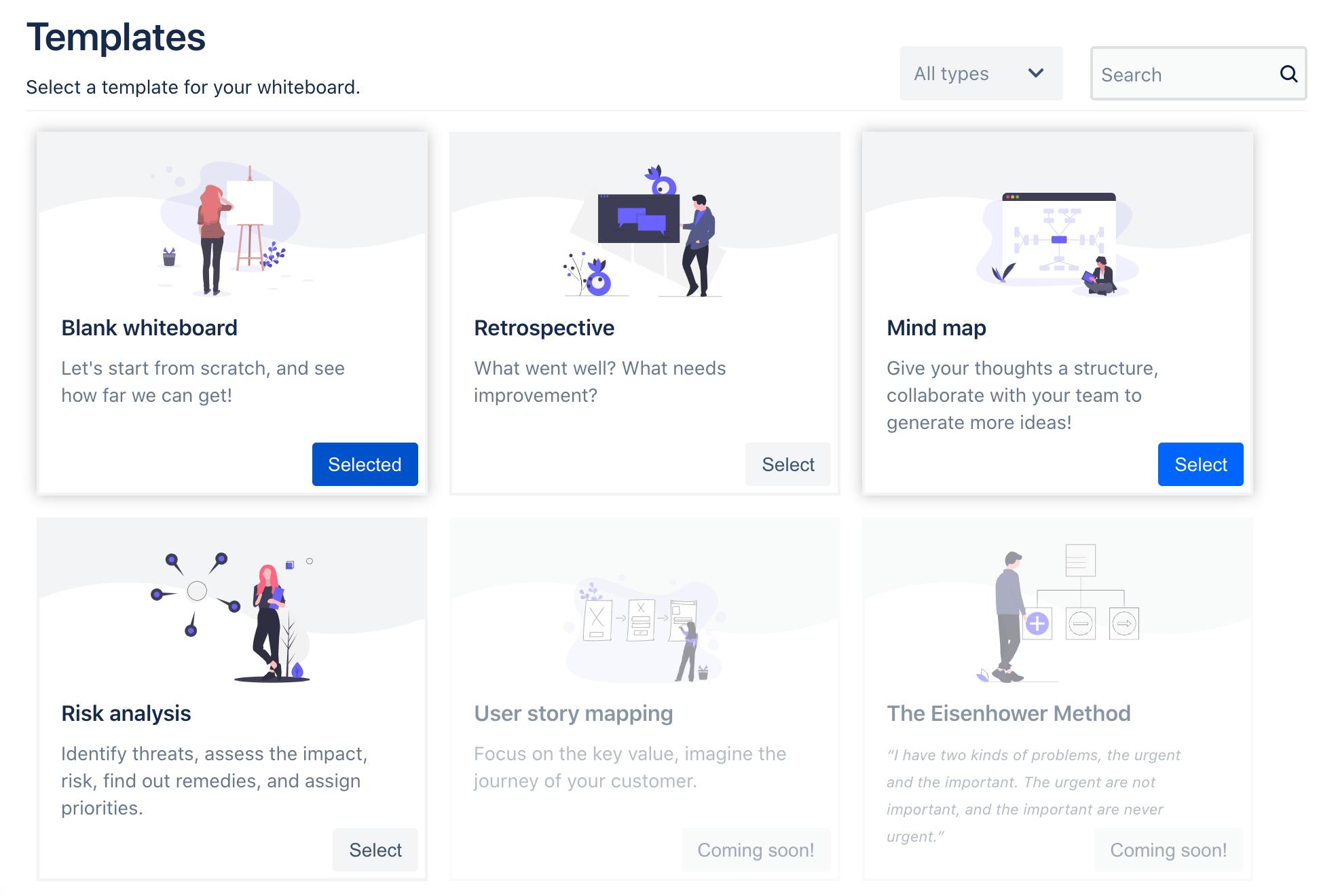 The key concept is the core of your Mind Map and expresses the topic you are going to examine. Name your idea, the key concept you want to explore further. You can name it with a keyword, statement, or picture.
3. Add branches to your map
Then organize your idea into a basic structure. Add the branches that will radiate from the main idea, and add other key concepts for the main idea, its descriptors, and characteristics. Go as far as you can to decompose the whole idea. Try not to overthink it. Mind mapping will come naturally as soon as you start adding new ideas and associations.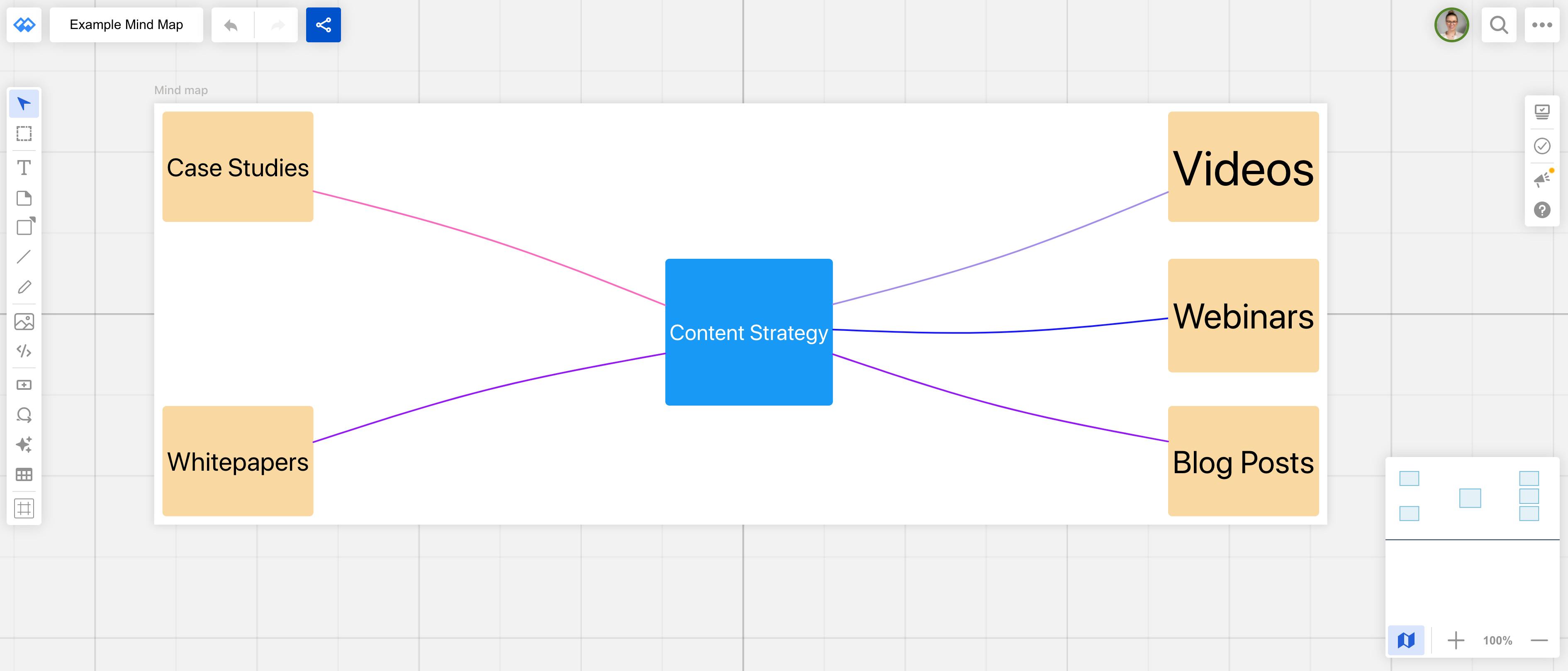 4. Use keywords
Don't use extensive sentences and descriptions. The beauty of mind maps lies in their simplicity. Use keywords that describe the idea, make them generic. It will be easier to add more branches with more specific keywords as you explore your vision.
5. Make it visual
To make it more readable for stakeholders and your teammates, use different colors for each branch. It will look not only clean but also more appealing to whoever gets to read it. Additionally, instead of keywords, you can use images to support expressing your idea.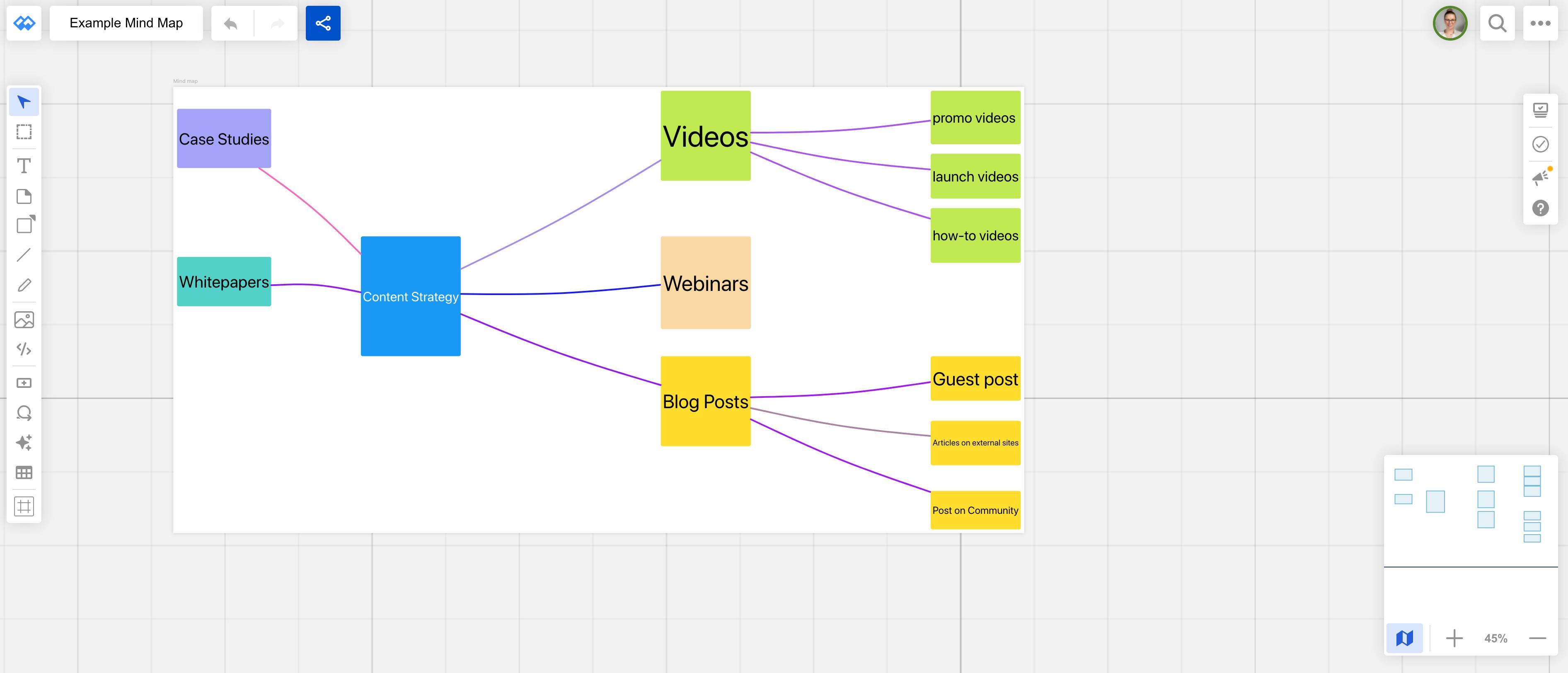 6. Collaborate with your team
Invite your team and work on the idea together in real-time. Each team member can explore each branch separately. You can exchange ideas, plan, prioritize and brainstorm. Then you can convert each object into an action item with just one click.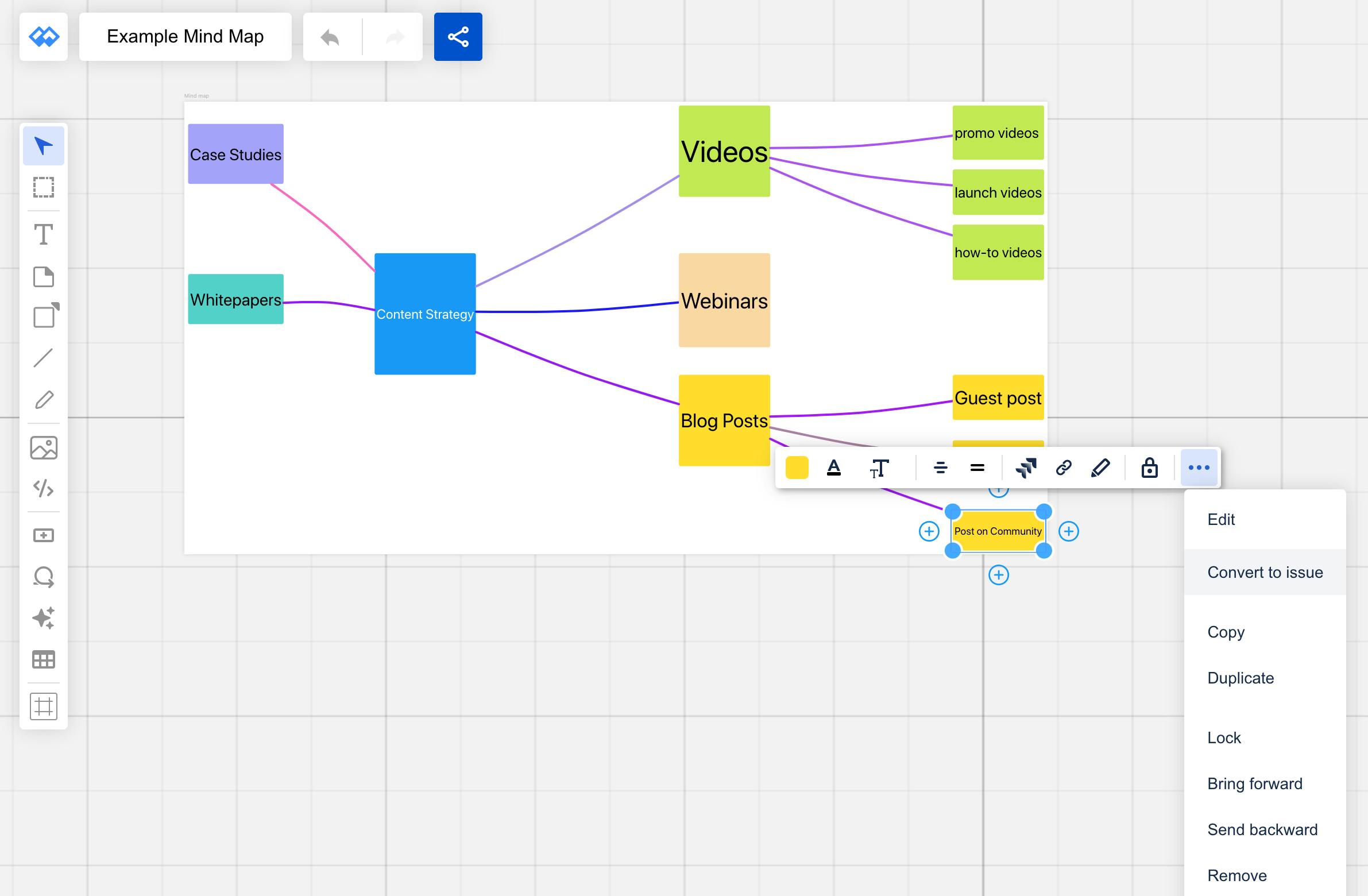 7. Revisit and review
Once you finish with your mind map, you can review it. Not immediately, but let your thoughts settle. Then reorder your diagram, add more branches, new ideas that you come up with over time.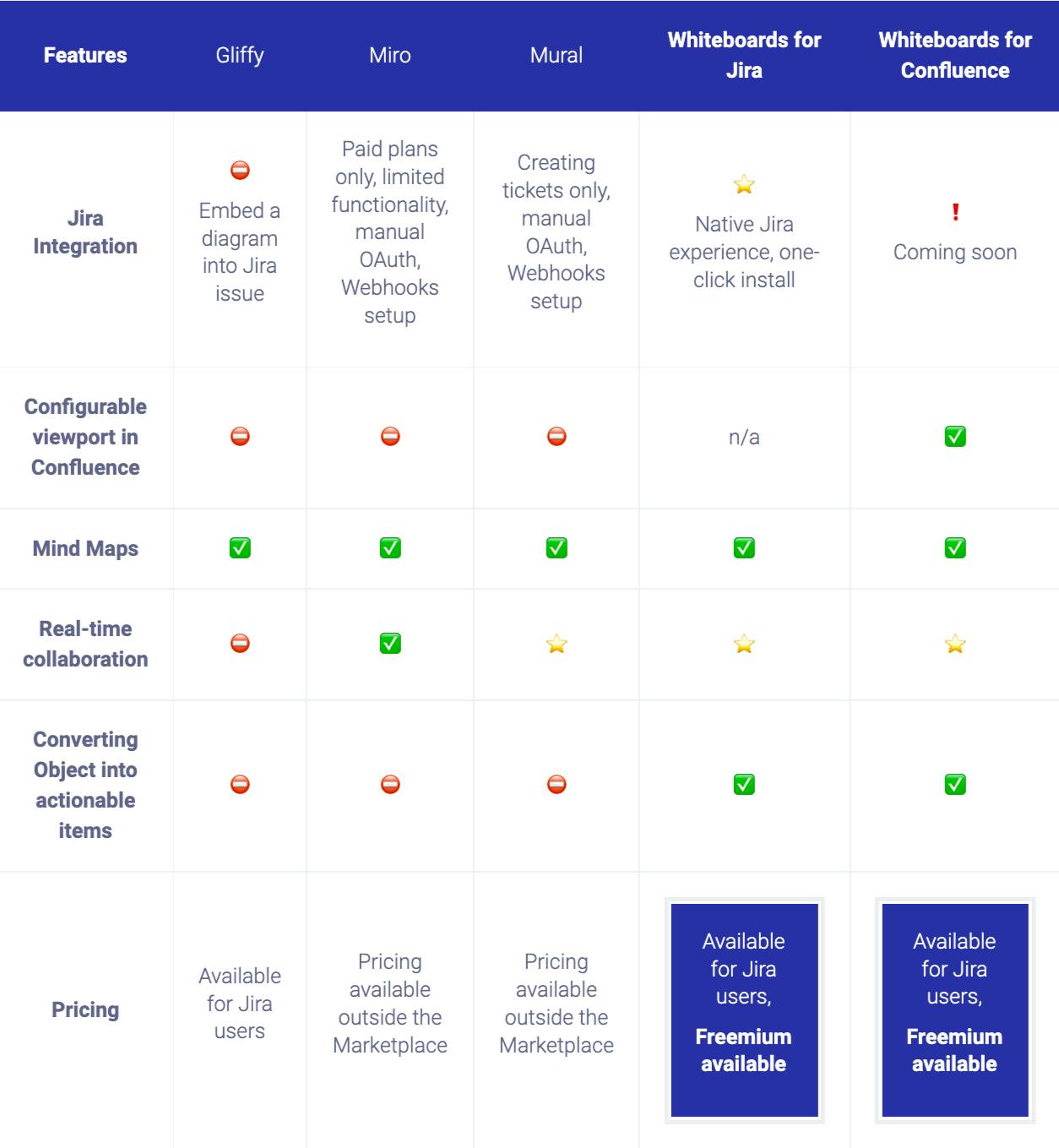 Summing up
So if you look for a complete tool that will help you with mind mapping, planning, brainstorming, and turning the outcomes into action plans, thanks to Jira integration, check out Whiteboards and start mind mapping today.