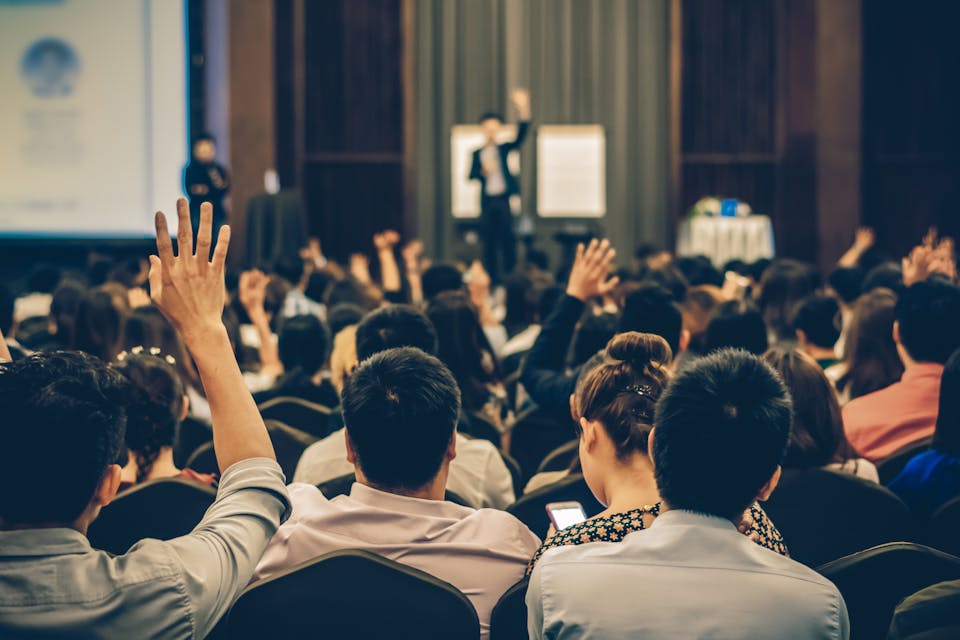 More and more organizers are holding their agile events and conferences in person, some prefer to stay online, but there are also still others who offer hybrid events.
There are many formats to choose from, and all of them will definitely bring together a lot of agile communities where people can share their experiences and make new connections. At such conferences, you can discover a whole lot of new ideas and concepts, learn about the latest news and practices from the industry, and chat with the world's leading innovators and experts.
The benefits of attending conferences
In addition to being extremely demanding, attending conferences has many benefits. Such events allow you to step outside your comfort zone, but most importantly, they allow you to meet with other agile enthusiasts just like you! Whether you join them in person or watch them from the comfort of your own home, you are still getting introduced to ideas, concepts, and business practices and educating yourself on a given topic.
Besides, you also:
Experiencing any event in person gives you an excellent opportunity to be introduced to the newest concepts or business practices. Seeing presentations or expert talks live helps you understand how you also can be more effective and efficient in your job.
Live conferences give you an opportunity to listen to professionals and leaders or ask them questions in a face-to-face environment. This cannot be done when reading a blog post or listening to a podcast.
With the constantly changing world and industry, every team member should always be on top of their game and keep their knowledge up to date.
Discover the latest innovations and insights
Attending live conferences is a conscious effort to educate yourself about a chosen topic. In the long run, this will not only improve your overall performance but also enhance your CV.
Talking to dozens of experts during such conferences provides insights you may not have discovered any other way. People like to talk, and when they speak to experts from their niche, they're more willing to share some industry secrets. Such information can inspire your next projects, fix bugs your product is experiencing, or discover a new direction your organization could follow.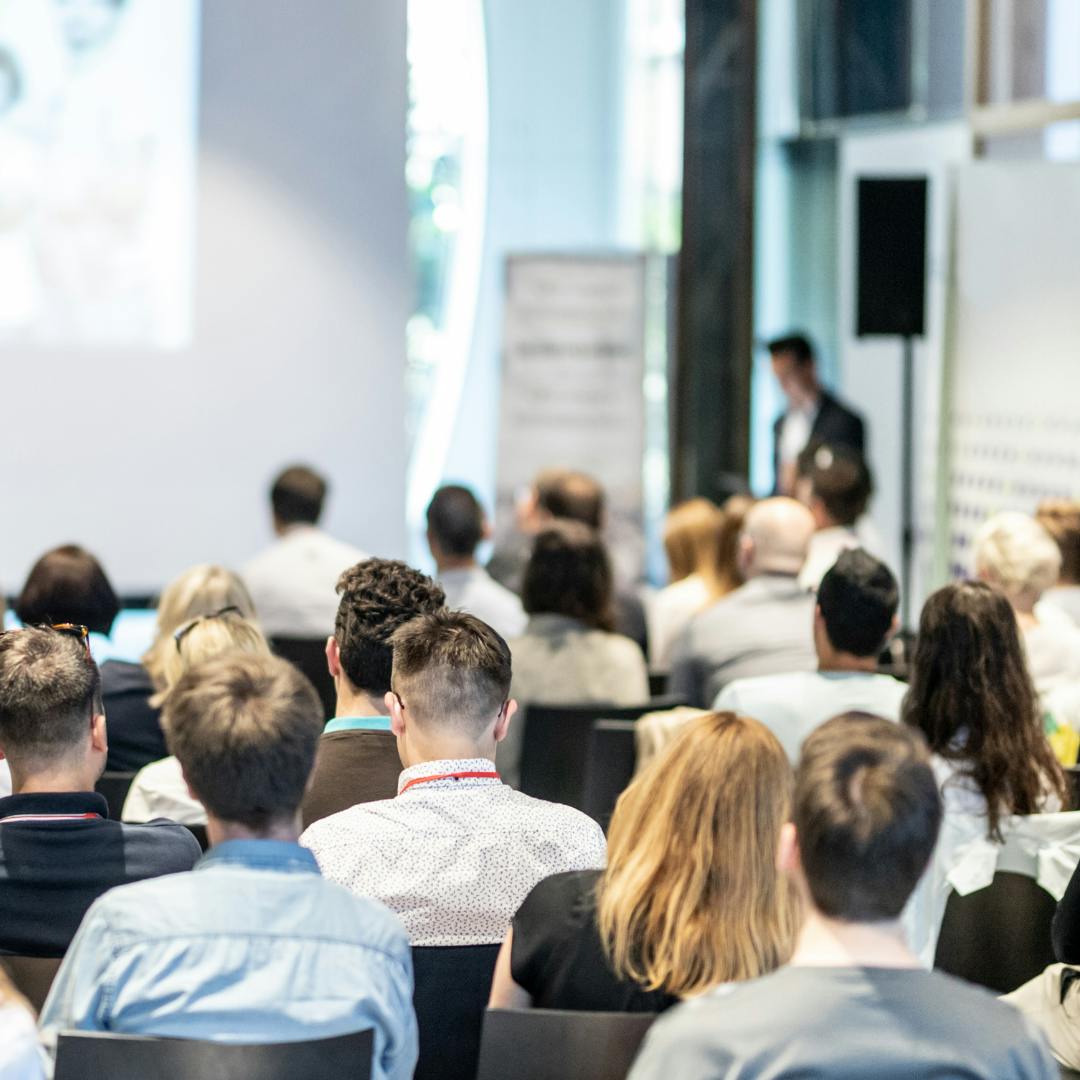 Meet industry experts face-to-face
Conferences are a great chance to meet your fellow managers from different backgrounds or parts of the world. Each and every one of them offers a unique skill set that can help you grow personally and professionally.
Meeting with your peers can provide you with a valuable resource of insights, best practices, or ideas that may be essential in growing your business and career. Conferences are great networks where you can catch up with friends or mentors and share experiences.
Our list of conferences
Here's a list of the most interesting and popular agile conferences you cannot miss in 2022 and early 2023.
August 2022
Name: SAFe Summit
Date: August 22-25
Location: Denver, Colorado, USA + On-demand content
Tickets: Not specified on the website
Link: https://safesummit.com/
Meet with the most engaging speakers and a community passionate about scaling Agile. Discover the most compelling content and engage with industry experts. Hear from Inbar Oren or Dean Leffingwell about the latest updates to SAFe solutions and tools that can help you achieve your goals through business agility.
Name: Agile Lean Europe 2022
Date: August 24-26
Location: Toulouse, France
Tickets: Starting at €150
Link: https://agilelean.eu/
Agile Lean Europe (ALE) is an onsite conference where people from various areas can gather together to share their experiences and discover new approaches to work and business. This year's theme is Futurespective — a great way to connect with others and yourself, be more open and vulnerable, and learn new things in the agile environment. Join Oana Juncu for her talk about The Three Dimensions of Agile Leadership or Perrick Penet who will explain Why We're Doing Kanban Wrong.
September 2022
Name: Jira Day
Date: September 7-8
Location: Warsaw, Poland
Tickets: Starting at $130
Whiteboards Speaker: Paweł Mazur
Link: https://deviniti.com/jira-day-2022/
The 10th edition of the most Atlassian-related conference in Central Europe is back on track! This year's edition is even more important — after two years of online events, we can finally participate in the live conference. Join us and our speaker, Paweł Mazur, who will show you How You Can Run Your Agile Events On A Digital Whiteboard.
Name: XP Days Benelux
Date: September 8-9
Location: Luxembourg, Luxembourg
Tickets: Starting at $53
Link: https://xpdaysbenelux.nl/
XP Days Benelux is a conference where you can learn how to bring software to life and what steps you need to take to support your business's needs. It is an excellent environment to share and exchange your ideas, exercises, and experiences with others. The event is organized by the Dutch and Belgian agile experts and community and takes place between Belgium and the Netherland. Following the program, you'll learn Ethics For Agile Coaching or How You Can Start Up A Distributed Team With Gamification.
Name: Agile Coaching Retreat Banff 2022
Date: September 11-13
Location: Canmore, Canada
Tickets: Starting at $650
Link: https://www.scrumalliance.org/events/coaching/banff
Agile Coaching Retreats events are built around Scrum, Retreat, Deep, Long, Shared Learning, and Slack principles. The conference is perfect for everyone interested in agile coaching, growing their teaching skills, or connecting with other enthusiasts. All coaches of all levels are welcome to attend the retreat to receive feedback from current CECs and CTCs on their coaching skillset.
Name: Agile Tour Vienna
Date: September 15
Location: Vienna, Austria
Tickets: Starting at €129
Link: https://agiletourvienna.at/
The Agile Tour Vienna event is an onsite conference organized by the agile community from Austria. You'll find a perfect balance here between experts on Agile methodology from around the globe, practitioners from local communities, and everyone else curious about combining agile values and principles into their everyday job. Discover how Jonathan Hall suggests Implementing Continuous Delivery In Reverse or Robert Finan share his advice on How To Survive An Agile Transformation And Keep Your Job.
Name: Agile Prague
Date: September 19-20
Location: Prague, Czech Republic
Tickets: Starting at 5500 CZK
Link: https://agileprague.com/
The theme of this year's Agile Prague Conference is Sustainable Agility. The conference will introduce over 30 speakers from the entire world to run two parallel tracks in just two days. The talks will revolve around The Role Of Agile consulting For A Sustainable World by Boris Glogger or What Business Agility Is And Why It's Important presented by Richard Cheng and Karim Harbott. A perfect event for scrum masters, product owners, or managers.
Name: Agile Amsterdam 2022
Date: September 22
Location: Amsterdam, Netherlands
Tickets: Starting at €395
Link: https://www.agileamsterdam.nl/
Join Agile Amsterdam 2022 event and choose between four different tracks! Take part in the Visionaries module about agile's vision for the upcoming years shared by Jurgen Appelo and Jurriaan Kamer or the Organizations module to listen to Lightyear's or Volvo's agile experiences and stories and what they will do next. Discover with Amanda Colliander and Joe Krebs what Agile Kata is and how Scrum can fit into it or learn how agile adoption accelerates in Education according to Dieter Möckelmann and Mirjam Draijer.
Name: LeSS Conference
Date: September 22-23
Location: Warsaw, Poland
Tickets: Starting at €700
Link: https://less.works/conferenza/conferences/2022-less-conference-warsaw-8
Gather with other agile enthusiasts in Warsaw to talk about scaling scrum and embracing agility. Choose between 30 workshops in the course of two days to talk about Recognizing True Product Owners, how to run a sprint review, or what are the Fundamental Development Patterns.
Name: Agiles — Jornadas Latinoamericanas de Agilidad
Date: September 22-24
Location: Armenia, Colombia
Tickets: Starting at $45
Link: https://agiles2022.agiles.org/
Visit Columbia during the 15th Latin American Agility Conference where the self-organized and non-profit business will share their stories about agile. Join people from different parts of the world to teach, learn, and network.
Name: eXperience Agile Week
Date: September 23-27
Location: Lisbon, Portugal
Tickets: Starting at €195
Link: https://www.experienceagileweek.org/
eXperience Agile Week in Lisbon offers three events designed to engage with colleagues from all levels within your organization. Be it product teams, business managers, or developers — everyone can benefit from a conference that delights, educates, and builds your enterprise competence in such a rapidly transforming world. Save your spot and see Ron Quartel and Gil Broza in their natural agile habitat!
Name: unFIXcon 2022
Date: September 28-29
Location: Berlin, Germany
Tickets: Starting at €1295
Link: https://unfixcon.events/
The unFIX conference is a modern, versatile, and more practical version of the approaches everyone is already familiar with — SAFe, LeSS, or Spotify Model. Join Nicolay Worren and Lisette Sutherland in Berlin to get inspired and start building more universal structures and dynamic teams. The event is ideal for everyone interested in running an organization with constant innovation in mind and bringing in a better human experience.
Name: JiraCon22
Date: September 29 (North America) / September 30 (Asia Pacific)
Location: Online
Tickets: Starting at $29
Link: https://jiracon.trundl.com/
JiraCon22 is back again to bring together the Atlassian User Community, Worldwide Atlassian Leaders, and the Atlassian Marketplace Community. Join Cody Wooten and Biro Florin in their talk about The Future of Work and What it Means for Jira or Alex Glabman and Jennifer Velázquez discussing How Appfire Helps Networks of Teams Work as One and Deliver to Plan. JiraCon will take place on Thursday, September 29th, and Friday, September 30th, 2022 and will be split over two days.
October 2022
Name: Agile Greece Retreat
Date: October 7-9
Location: Eretria, Greece
Tickets: Starting at €77
Link: https://www.agileretreat.gr/
Spend a weekend by the sea while also participating in the Agile Greece Retreat event. Meet with Vagelis Antoniadis or Dimitris Dimitrelos to talk about solving issues, share lessons learned, and exchange ideas about agile and human-centered work.
Name: Manage Agile 2022
Date: October 10-14
Location: Berlin, Germany
Tickets: Starting at €990
Link: https://www.manage-agile.de/
Take part in the in-person conference or join online if that's more convenient for you. The Manage Agile event will help you understand agile leadership better, listen to excellent speakers, and discover new paths for your business.
Name: Italian Agile Days
Date: October 14-15
Location: Brescia, Italy
Tickets: Not specified on the website
Link: https://agileday.it/
The Italian Agile Days is the leading Italian summit aimed at individuals interested in agile and lean practices. Discover how you can uncover better ways to develop your software and manage your work.
Name: Global Scrum Gathering
Date: October 17-19
Location: Lisbon, Portugal
Tickets: Starting at $400
Link: https://www.gsglis22.com/
This year's event, Global Scrum Gathering, will take place in the heart of Lisbon, where Alex Sloley, Alexander Frumkin, and other trainers and practitioners from the entire world meet for three days to learn from one another, make better connections, and get inspired to act as changemakers when they get back home.
Name: Agile Austria Conference 2022
Date: October 20-21
Location: Graz, Austria
Tickets: Starting at €39
Link: https://www.agile-austria.org/en
Visit Graz to find the answer to this year's Agile Austria Conference 2022 slogan, "Destination Agile: Is agility the final goal or the way to achieve it?". Discover whether agile is still a way to go, how the pandemic totally rocked everyday routines, and what positive or negative transformations agile can bring for you. Pack your agility suitcase and set off to Austria.
November 2022
Name: Regional Scrum Gathering Taipei
Date: November 4-6
Location: Taipei, Taiwan
Tickets: Starting at 6000 NDT
Link: https://rsg.taipei/
Visit Taipei, where world-renowned speakers Lyssa Adkins, Roman Pichler, and Geoff Watts will share their secrets about product strategy, roadmaps, and agile.
Name: Women in Agile
Date: November 9
Location: Online
Tickets: Starting at €29
Link: https://womeninagile.eu/
An online conference organized for all genders, but only women will be presenters. The gathering will focus on sharing knowledge and possibilities on the market for women and starting a European community of women in agile who can teach, educate, and inspire each other every day. The conference aims to spread awareness about women's participation in IT and how we can change this demographic.
Name: Regional Scrum Gathering Belgrade
Date: November 17-18
Location: Belgrade, Serbia
Tickets: Starting at €220
Link: https://www.agile-serbia.rs/conference/regional-scrum-gathering-belgrade-2022/
Regional Scrum Gathering ℠ will take place in Belgrade, where local agilists like Ángel Medinilla or Jutta Eckstein will share their unique agile experience. The event is a huge deal — this is going to be the first in-person conference since the pandemic stopped the world in 2020. Come and take a chance to learn directly from industry experts, connect with folks from your community, and get inspired to the core.
Name: Regional Scrum Gathering Dhaka
Date: November 18-19
Location: Dhaka, Bangladesh
Tickets: Starting at 8000 BDT
Link: https://www.dhakaregional.com/
The organizers of the onsite-only event, Regional Scrum Gathering, are more than thrilled to welcome you back to Dhaka! Industry experts and professionals will host short sessions during which they will cover such topics as agile, scrum, agile engineering practice, DevOps, and many more.
Name: Agile Testing Days
Date: November 21-24
Location: Potsdam, Germany
Tickets: Starting at €765
Link: https://agiletestingdays.com/
Finally, the Agile Testing Days learning festival is back in town with a brand new program! The organizers offer more than one hundred sessions for you to participate in, with ninety expert speakers waiting to share their knowledge! Hear more from Anne-Marie Charrett, Ash Winter, and others in Germany!
Name: Agile Grenoble 2022
Date: November 23-25
Location: Grenoble, France + Online
Tickets: Not specified on the website
Link: https://agile-grenoble.org/
Agile Grenoble is a fantastic opportunity for all French-speaking agile enthusiasts to take part in. It is dedicated to professionals who seek innovation and want to discover new possibilities for their businesses.
December 2022
Name: Scrum Day Europe
Date: December 1
Location: Amsterdam, Netherlands
Tickets: Starting at €495
Link: https://scrumdayeurope.com/
Scrum Day Europe celebrates its 10th anniversary! To do it in the best way possible, the organizers invite thought leaders and experts back on stage to share their experiences from the past ten years and look forward to what's ahead of us. One of the largest community events about Scrum is back in town! Book your tickets and see Roman Pichler, Leslie Morse, and others on stage.
April 2023
Name: Atlassian Team '23
Date: April 18-20
Location: Las Vegas, Nevada, USA
Tickets: TBD
Link: TBD
Team '23 is the ultimate event to improve your teamwork experience. Connect with industry leaders, thinkers, and innovators in Work Management, ITSM, or DevOps & Agile from around the world. Discover new opportunities, ideas, and skills to transform how your team collaborates and drives cultural change.
Summing up
That concludes the list of the most interesting agile conferences!
Please bear in mind that some of the events' dates, locations, or prices might have changed since the publication of this article. We highly recommend rechecking the conferences' websites before committing to the purchase of the tickets.
It is also worth remembering that the ticket prices may vary depending on how early (or late) you register for the event. The costs of accommodation and travel are not included in the conference pricing.
We wish you a great time at your most awaited summits!